'Is this your composition, or is this some sort of collaboration?'
Examining a professional musician's attitude towards graphic composition
Table of Contents
DOI: 10.32063/0603
Russell Wimbish
Russell Wimbish is a researcher, bassist and composer living in Edinburgh, U.K. He received a B.M. and M.M. in Jazz Studies from the University of North Texas and is a PhD candidate at the University of Edinburgh. His areas of research include contemporary composition, improvisation and communication in performance.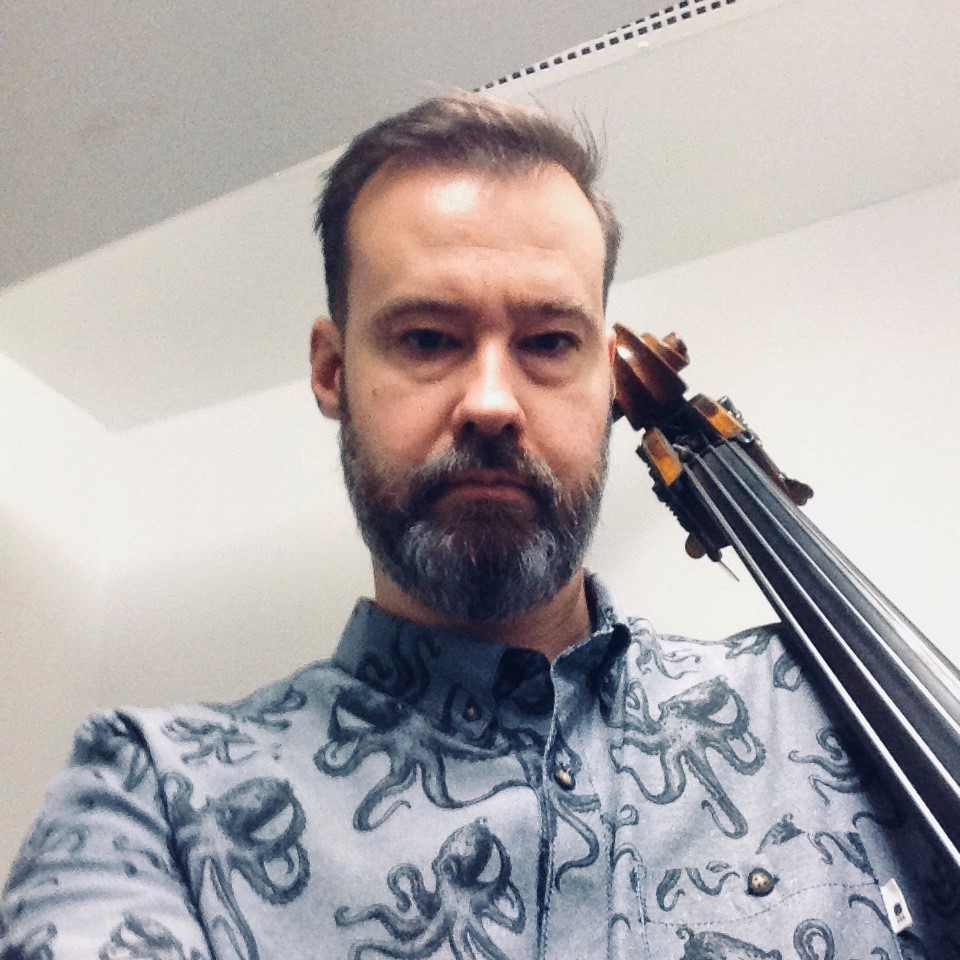 by Russell Wimbish
Music & Practice, Volume 6
Performative Compositional Practice
Introduction
This study examines how a musician working primarily in the field of free improvisation goes about establishing a sense of personal artistic value in the shadow of the Western classical music canon. The catalyst for this exploration was a pilot study on performer strategies for graphic score interpretation. Although the data from that study provided little in the way of results concerning interpretational strategies, the research participant's justifications for not embracing graphic composition revealed how the dominant cultural canon can influence even a musician working in experimental settings. By examining the participant's experiences with graphic scores, the research described here presents findings on performer attitudes towards composition, composer-performer relationships, improvisation and how one goes about exhibiting the validity of artistic practice in a medium without a codified set of aesthetic values.
History and background
Before beginning the core discussion, a brief history of graphic compositional practice is necessary to contextualise the objectives and findings of this study. It is first beneficial to define what is meant by the term 'graphic score'. Although my ongoing research indicates that the definition is flexible and socially defined, a 'graphic score' is one that uses something other than the customary symbols and words of standard notation. It is typically associated with a diverse compositional style that reached maturation in the 1950's output of composers Earle Brown, John Cage, Morton Feldman and Christian Wolff.[1]/[2] Known as the 'New York School', these composers wrote works featuring idiosyncratic notational systems that include numerals on graph paper[3], geometric shapes[4], textual instruction[5] and invented symbols.[6] Frequently falling under the terminological mantle of aleatory, chance or indeterminate music, their scores often have no suggestion of tonality or rhythm and make considerable technical and creative demands of the performer.[7] Indeed, it is the performer, not the composer, who typically determines a work's specific sounding attributes.[8] The rapid and profound influence of the New York School can be evidenced by the way in which established European composers such as Pierre Boulez and Karlheinz Stockhausen also began to integrate 'chance' elements and idiosyncratic notations into their work by the late 1950's.[9]/[10] Today, practices derived from graphic composition are still very much alive and can be found in the music of Anthony Braxton, Barry Guy, Jennifer Walshe, David Young and countless others.[11]/[12]
Despite their propagation and influence, for many years graphic scores remained under-examined in academic and pedagogical literature. This is most keenly felt in the paucity of research concerning graphic score performance. Nevertheless, recent years have seen a growing body of literature that addresses this subject. 'New York school' composer Earl Brown has written about his own compositions, documenting the rehearsal methods they require and the role of improvisation in their realisation as well as making his own aesthetic evaluation of them.[13] Iddon and Holzaepfel have chronicled pianist and New York School collaborator David Tudor's performance preparations for works by Cage and Feldman respectively.[14]/[15] From the field of creative practice as research, Kanga and Hustas have documented their personal approaches to preparing and performing graphic works.[16]/[17] However, the heterogeneity of graphic notational systems and their associated performance methods necessitates further investigation. Forming part of my current research, this article  attempts to address this deficiency by seeking to discover how a particular performer, recognised as an exemplar of new music interpretation, approaches graphic score performance.
Research objectives
My research has sought to answer three questions: a) what strategies has the research participant used for graphic score interpretation; b) what is the role, if any, that improvisation plays in the performance of graphic scores and c) what is the role of communication in the successful putting across in performance of such scores. For the purposes of this study, communication was broadly defined to include transmission methods such as speech, body language, textual communication and musical notation. The research examined communication between composer and performer as well as intergroup communication. What is more, it explored the interpersonal relationships of the communicating parties and the circumstances in which these communications occur. The research results were not used in an attempt to advance a global theory or method for graphic score interpretation, as the diversity of graphic composition precludes such an endeavour.[18] Rather, by focusing on detailed, local data, my hope is that the study has revealed something of how the personal, interpersonal and environmental affect graphic score performance.
Method
The data for this pilot study came from a one-to-one interview with double bassist Tom Blancarte.[19] Tom was personal acquaintance who was familiar with my status as a PhD student and was prepared to act in a formal capacity as a participant in my research. I contacted him through social media and informed him that the subject of the interview would be graphic score interpretation. The interview was conducted via Skype on March 17, 2017 and recorded with a portable recorder. Tom has member-checked the interview and has responded with follow-up data through email correspondence. He has allowed his name to be used and was not paid for his participation.
Several criteria led to my selection of Tom as research participant. To begin with, I had known him personally for several years. Having attended numerous concerts of his, I was familiar with his playing and with many of the performative environments in which he works. Additionally, we had performed graphic scores together on two occasions. In both instances, Tom displayed a sensitivity to the music that impressed me as a musician and a skill set that inspired me as a bassist. Lastly, Tom has established an international reputation as an outstanding performer of new music composition and free improvisation. This last criterion was important to this study, as it was my intention to conduct an interview with a practitioner recognised in his field as an authoritative source for the subject of my research. To sum up, Tom's experience with the subject of graphic score interpretation, his abilities as a musician and his professional