'Interactions, Interrelationships and Interdependencies'
Jeremy Cox
Guest Editor Jeremy Cox read Music at Oxford University and completed his DPhil there in 1986. His thesis was on the mélodies of Francis Poulenc and this repertoire has remained a lifelong passion. As a baritone soloist, he vigorously championed through performance the Poulenc songs that he was simultaneously studying, and developed through this a lasting conviction concerning the importance of unifying theory and practice in the development of the well-rounded, reflective musician.
After leaving Oxford, and alongside his work in a range of Music departments and institutions across the UK, Jeremy continued to pursue an active career as a singer and conductor. He moved to the Royal College of Music, London in 1995, first in charge of postgraduate studies and, from 1998, as Dean, with overall responsibility for learning, teaching and research. His interest in, and experience with, curriculum development led to his being increasingly involved in this area at an international level, especially through the Association Européenne des Conservatoires, Académies de Musique et Musikhochschulen (AEC). On behalf of AEC, he played a leading role in developing the music sector's response to the Europe-wide agenda for the modernisation of higher education.
In late 2010, after a year as RCM Honorary Sabbatical Fellow, Jeremy accepted the post of Chief Executive of AEC. As CEO, he led the association through the important re-location of its office to Brussels as well as successfully overseeing a number of major European projects. Between 2013 and 2015 he combined the role with that of Executive Vice-President of the International Music Council.
After retiring from AEC in 2015, Jeremy was invited to join McGill University, Montreal, Canada as Schulich Distinguished Visiting Chair in Music for 2016-17, returning in early 2019 to assist colleagues in the Schulich School of Music with the development of their new Strategic Plan. Meanwhile, he continues to work on his book, 'Poulenc, Apollinaire and the Mélodie in the Age of Modernity'.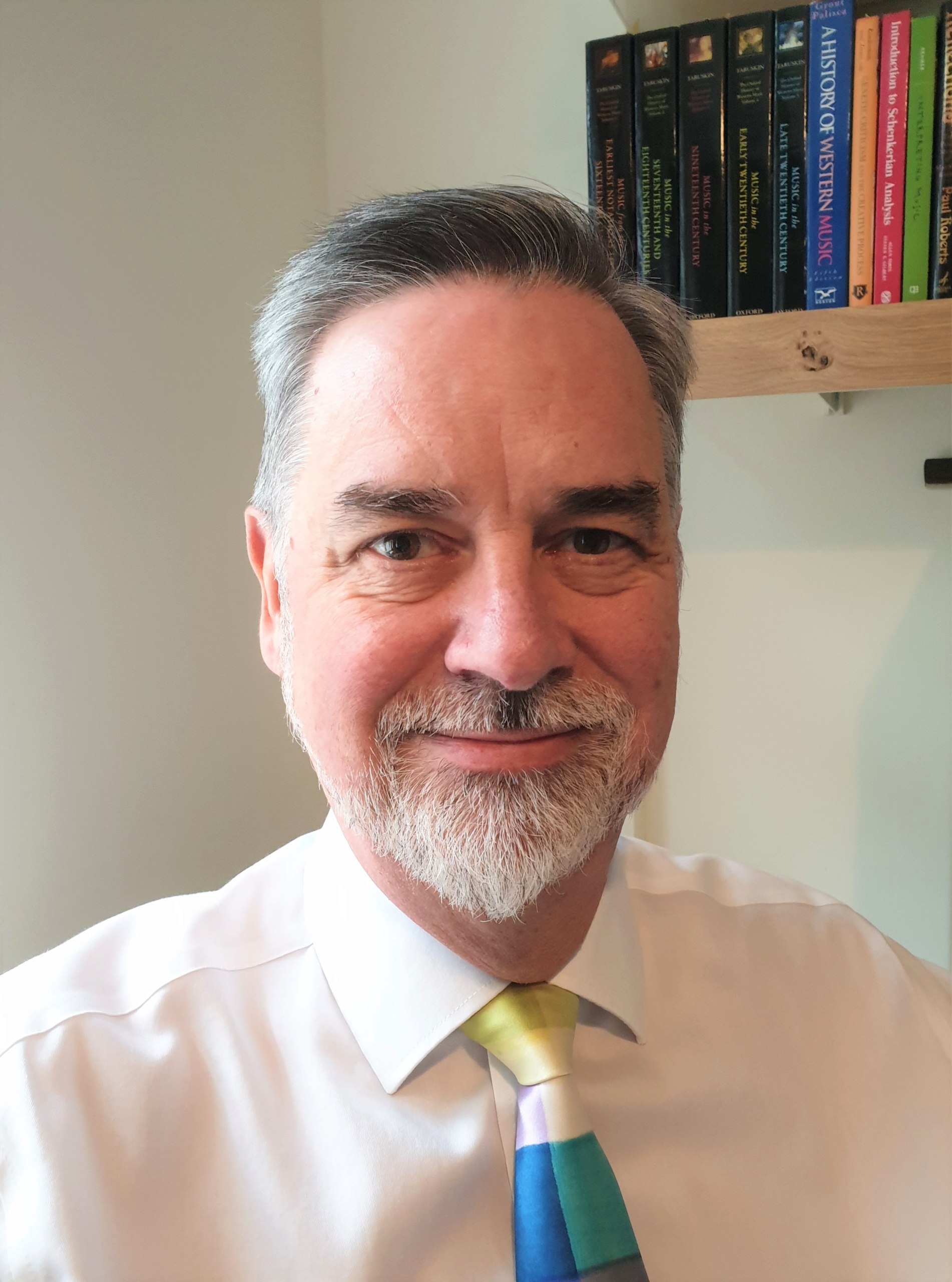 by Jeremy Cox
Music & Practice, Volume 6
Editorial
In July 2018, the Fifth International Conference of the Performance Studies Network (PSN) was held in Oslo at the Norwegian Academy of Music (NMH). Although PSN has always been international in its scope – and in the far-flung home locations of many of its attendees – this was the first time that the biennial event was held at a venue outside the UK. The call for contributions produced a substantial response, amounting to over 150 proposals, which were considered by an international committee of peer reviewers. In all, around 100 presenters, working singly and in groups, gave talks, performances and hybrid presentations combining these two elements during the course of the event. They addressed a wide range of repertoires, issues and approaches, all linked by their focus on how we understand music in relation to its manifestation through performance, how we analyse our experience of it as sound and how the creative and performative aspects of the art-form relate to one another.
The richness and variety of what was presented demanded that there should be some kind of more durable resource documenting, preserving and disseminating at least a portion of the material that had been laid before the attendees. In view of this, after the event, NMH issued a further call inviting those who had given presentations to take up, if they wished, the opportunity to develop them to be included in a set of publications celebrating PSN 2018. NMH supports the online journal, Music & Practice, whose aims and focus chime closely with those of PSN. It was agreed with the Editor–in-Chief of Music & Practice, Erlend Hovland, that three special issues of the journal would be dedicated to articles and expositions, some of them scientific in scope, others more exploratory in nature, building upon presentations from the conference. Two of these issues would appear on its standard platform; in addition, a third would be mounted on the NMH's portal within the Research Catalogue (RC) of the Society for Artistic Research (SAR). Here, presentations in which the performative element dominated over that of text or commentary would be published as 'expositions'; in the standard issues, there would still be ample opportunity to benefit from the journal's online format by including images, sound files, etc. within the papers, when required.
It was my privilege to be invited to serve as guest editor for these three issues. Doing so has brought home to me the vitality and diversity of activity taking place under the umbrella term of Performance Studies, as well as highlighting the important role that PSN, over ten years and five editions, has played in the development of the sub-discipline. Along with my gratitude for being commissioned to take on this task, I must pay tribute to the open and collaborative spirit in which contributors have engaged with me during the entire editorial process.
This issue, Volume 6 of Music & Practice, is the second of the three to be dedicated to PSN 2018 and takes as its overall theme the connections and collaborations that function at all levels within and between the diverse practices of music. How composers interact with performers, and vice-versa; how performers function in a group context; how both composers and performers relate to audiences; how contemporary musicians engage with older traditions; how teachers and students communicate with one another; and how musicians get to grips with new repertoire in their practice regimes – all these issues and more are discussed in the twelve articles gathered in this volume. With this in mind, it has been given the overall title: 'Interactions, Interrelationships and Interdependencies'.
The specific topics addressed in each article, when taken collectively, range over a considerable area of enquiry. All the same, certain broad patterns are discernible and the twelve articles of the volume have been grouped in three equally-sized thematic sub-sets. The first addresses what might be called Performative Compositional Practice – a phrase that encompasses a whole spectrum of activity, from how musicians operating in the differentiated roles of composer and performer interact in the process of bringing a work from concept to full realisation to how the expansion of musical resources, through anything from extended techniques to new technology, in any case blurs and redefines these roles. The next group of articles is concerned with music's meaning and how this is embodied, communicated and apprehended, including consideration of how we listen and what we hear; these contributions are grouped under the title Meaning, Articulation and Reception. The final group is concerned with music at the margins, whether through unorthodox instruments and performing styles or through the adaptation of learning strategies to cope with expanded technical demands and physical distancing; these articles share a concern with Resistance and Affordance and how the one might be turned into the other.
Interactions between composers and performers are at the heart of Agata Kubiak-Kenworthy's article, which opens the volume. Her focus is upon 'Composer-Performer Collaborations in New Compositions: suggestions for change versus authorship'. Using a number of case studies, she proposes a categorising scheme for these interactions.  As well as revealing their variety, this approach offers a means of evaluating the extent to which authorship itself may become a shared and collaborative phenomenon.
Monika Voithofer addresses a different aspect of performative compositional practice – the acceptance of multimedia and performance-art practices into the conceptual space that defines contemporary music. Beginning with a historical survey of European and U.S. post-war avant-garde movements such as Fluxus, Conceptual Art and Performance Art, her article moves on to discuss selected works by composer-performer Jennifer Walshe. Walshe provides the quotation which Monika uses in her title: '"That it´s not too late for us to have bodies": Notes on Extended Performance Practices in Contemporary Music'.
The blurring of the boundaries between art and music also emerges as one of the themes of Russell Wimbish's article. His concern is with graphic scores and the responsibilities that these place upon the performer, and his findings are based upon a structured interview with double bassist Tom Blancarte. Analysing Blancarte's reasons for not wholeheartedly embracing graphic compositional concepts, he suggests that these reveal much about the perspectives, practices and challenges of a musician working in experimental settings. As with Kubiak-Kenworthy, questions of authorship arise, as signalled in the title of the article: '"Is this your composition, or is this some sort of collaboration?": Examining a professional musician's attitude towards graphic composition'.
Finally in this group, Juan Parra Cancino and Jonathan Impett outline aspects of the work of the Music, Thought and Technology (MTT) research cluster, established at the Orpheus Institute, Ghent, Belgium. This cluster investigates the role of technology- and science-derived concepts in contemporary music practices. Revealing what they describe in their title as 'Lessons from the future' they postulate a situation driven by ever-evolving computer music practice where practitioners are able – perhaps even obliged – to merge, or blend, in one person the roles of composer, performer and instrument builder/technician.
The first of the articles exploring Meaning, Articulation and Reception is by Alan Taylor. His title, 'Death of the composer? Making meanings from musical performance', references Roland Barthes' famous pronouncement concerning the demise of the author in its questioning of the centrality of composers to the making of meaning through-and-in music. He explores this question first by examining the working of the creative imagination, reviewing debates on artists as the source of meaning in their art, and then through a study of how audiences for two of his own compositions variously interpreted the pieces' intended meaning when questioned afterwards. He proposes a neurological model of meaning-making from music in which meaning arises from listener perceptions that are initially non-verbal but may subsequently be expressed verbally via the interlinked functioning of the brain hemispheres.
If meaning arises within the listener, then the question embedded in the title of Anthony Gritten's article, 'Does the performer have to listen?', takes on a particular and reflexive significance. In answering it, he makes a distinction between listening and hearing and also suggests that listening is an act which engages the performer's entire body and is perhaps better expressed in terms of a particular kind of concentration. He points out that, while we pay a great deal of attention to the role of listening in practising and performance preparation, we tend to overlook how it continues to function in the real-time experience of performance itself. Rectifying this has obvious implications, both for how we might improve our understanding of the processes by which music is communicated and received and for how we might thereby beneficially modify our teaching approaches.
Marc Duby's article takes us from the scenario of the solo or duo performer to that of the larger ensemble, especially where such a group operates without a director and makes use of improvisation. In 'Minds, music, and motion: ecologies of ensemble performance', he presents a reading of such ensembles as constituting a special case of 'groups', in the sense in which that term is understood in systems theory. He posits a non-linear and emergent quality to ensemble performance, arguing that there is more to the result of ensemble interaction than the sum of its members' contributions. Using concepts such as emergence, self-organisation and bifurcation, he offers a view of ensemble performance that, instead of employing an outcomes-oriented perspective, focuses less on aesthetics and more on the individual and collective actions at the heart of a musical performance.
The final article in this group takes the word 'articulation' not as connoting the broad expression of ideas, intentions or instructions to action but in its narrower sense of describing how the flow of music is variously sustained and demarcated. However, it immediately introduces yet another sense of the word's meaning in that it concerns itself with choral music, where the text has its own demands and needs in terms of articulation. In 'Text articulation and musical articulation in choral performance: a case study', Caiti Hauck considers the interplay of musical and textual articulation and the ways in which they sometimes complement but at other times compete with one another in choral performances. By means of bibliographical studies, interviews with conductors, and close analyses of selected recordings, she describes the effects of different durations and dynamics of vowels and consonants on legato and non-legato articulations.
Ideas of resistance and affordance have already featured in earlier articles of this volume – most notably that of Marc Duby. The final group of articles offers examples of the functioning of these contesting principles in a diverse range of settings. In her article, 'Baroque harmonic language and chord playing on the marimba: one piece, many options', Tomoyo Ueda discusses the ramifications of performing the music of Bach and his contemporaries on an instrument that is alien to that repertoire both culturally and chronologically. Her approach advocates a blend of historically-informed contextualization with individually-driven aesthetic choice. Since the resistances and affordances of the marimba are quite different from those of Baroque string instruments, this may lead to specific musical results which diverge from normal expectations of faithful performance but, for her, this in no way invalidates the importance of stylistic awareness – not least as a source of creative inspiration, leading the marimba player into new modes of expression.
Benjamin Redman's article addresses the very particular problems associated with instrumental teaching when carried out remotely.  The resistances in this area are multiple and, for some, point to the indispensability of face-to-face contact. Benjamin's article, 'The potential of videoconferencing and low-latency (LoLa) technology for instrumental music teaching', documents a series of experiments and interviews by which he has sought to explore the seriousness of these resistances and whether ways around them, such as the use of low-latency technology, are practical for teachers and students. In the process, he uncovers that there are certain special affordances, including working with an intensified concentration, that teaching and learning remotely can deliver.
Alfia Nakipbekova's article, 'Contemporary Cello Technique: Performance and Practice', considers the special challenges associated with preparing and performing contemporary works for cello that employ extended techniques. Her contention is that, despite the seemingly wide gulf between the actions required in such pieces and those associated with the more conventional repertoire for the instrument, there is more that unites than divides them. Her article documents aspects of her own preparation of Nomos alpha by Iannis Xenakis and explores the relevance and practical use of preparatory studies designed to establish and refine both traditional and contemporary techniques. She suggests that, far from being mutually exclusive, such exercises can be complementary, and a regime of practice which combines them can break down the resistances that some may encounter when dealing with challenging contemporary repertoire.
Finally, Laura Wahlfors offers a subtle reading of the artistic persona presented by the concert organist, Cameron Carpenter. From her account in 'Cameron Carpenter's Queer Art of the Organ, Camp, and Neoliberalism', it is clear that this highly unorthodox performer has chosen an instrument and a style of performance that confront head-on a whole range of resistances, both musical and cultural. But according to her analysis, while Carpenter's camp virtuosity can be interpreted as creating a space of resistance, it also becomes a performance space of queer utopian potential.
From the brief descriptions of these twelve articles I hope that their richness of content and breadth of subject matter already shine through. Reviewing the eleven articles of Volume 5 of Music & Practice and now these additional twelve in Volume 6, I am more than ever struck by the way that they attest to the level of scholarly engagement that now exists within performance studies, and to its vigour and diversity.  The field has not only expanded in its own terms but is also finding it appropriate and necessary to take on other fields, such as that of music pedagogy, as shown by several of the articles presented here. As guest editor, I hope that readers will enjoy the contents of this second volume of the special PSN edition of Music & Practice. And if this is the case, I should like to think that it may spur them to revisit Volume 5, as well as whetting their appetites to access the final volume when that appears later in the year on the Research Catalogue.